Here's the second part of Scott's meme. The Google Earth image is still the same (at least for now).
The house I grew up in, the house I live in now, is full of memories. And a big part of those memories is my younger brother. I have an older sister and an older brother--and I love them to bits--but my younger brother and I have this special connection. He was my nemesis; at the same time he was (and still is) my partner in crime.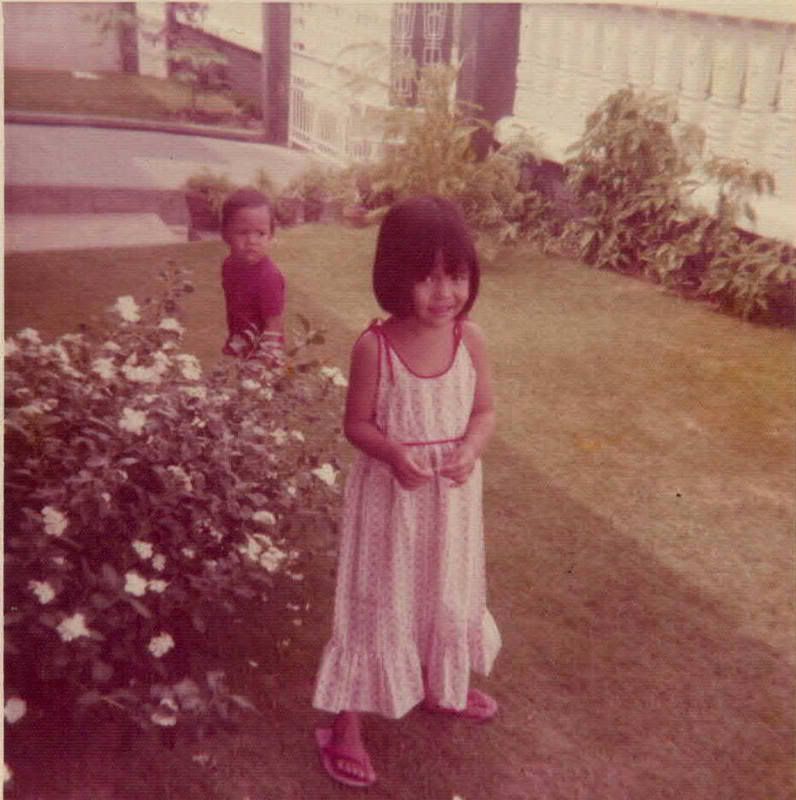 How was/is he my nemesis? Here are a few examples:


When we were kids, he used to creep up on me just as I was falling asleep and wake me up by waving a finger underneath my nose. Nothing shocking about that in itself, except if you factor in the grim reality that he rubbed the said finger against a part of his anatomy located between the two cheeks below his spine.
He would tease me mercilessly about a crush that I had in elementary school; I'd react with something cutting (even then, I used words to my advantage); the little bugger, at a loss for words, would punch me HARD in the arm or the leg, then run--really fast. I never could catch up with him to hit back. One vivid memory, though, was him jumping up and down on my parents' bed, crying his eyes out as Daddy was about to discipline him for some infraction (which I don't remember now). I never tasted the sting of Daddy's belt myself, being a Daddy's girl. Hehe. But I did get to feel his wrath for my misdemeanors in other ways many, many years later (but that's a topic for another post).


Like I said, though, my younger brother and I were (are) partners in crime. I'm about a year and eight months older but sometimes it seemed (seems) like we were (are) the same age. We could be fighting the previous night but the next morning be in cahoots doing something unexpected, like going for a dip in the small pool outside the front door without our parents' knowledge. They scrambled for the camera when they heard us laughing there in the early hours of the morning. (This picture is the sexiest you'll ever see of me online--TOPLESS! Haha!)
And so the years passed. We got tongue-lashings from Daddy when we monkeyed around and wrestled--for sounding like "two carabaos engaged in a death match" (never mind that we never thought carabaos, or water buffalo, ever did such things). His first girlfriend was a girl named Lizza--which flattered me deeply, though I pretended otherwise.
I was the one who called him when Daddy died (he was in school at the time). I married; he married a few years later. I think his wife was a tiny bit jealous of me (still is). We shared almost the same taste in music and films (still do).

He got a job at a cruise line, working his way up to an administrative position in a matter of months. Smart, hard-working dude, he is. He's home on vacation now, but will be leaving again in a few weeks--to make me drool again at the places his job takes him to, the places I dream of going to in Europe (the bugger).
No, he doesn't wave that smelly finger under my nose anymore. Just like he isn't my nemesis anymore (at least, not as much as he used to be).

But he's still my partner in crime.


Cheers, Pangs!