This is a catch-up post of sorts: three tags in one. Let's play.


Lyn's blog challenge.
Lyne didn't actually tag anyone, but I thought this was a nice idea.


She says: Would you all be willing to slow down for just one second, and find one or two material items in your house that bring you joy/memories/sentiment?


Will you photograph them and put them on your blog, or write about them, if you don't have a camera?


It's not that I want to place excess value on material items. It's just nice to slow down and acknowledge those things that put a smile on our face. We need not to rush by them.


So here is a photo of one of the many things in my house that I particularly like: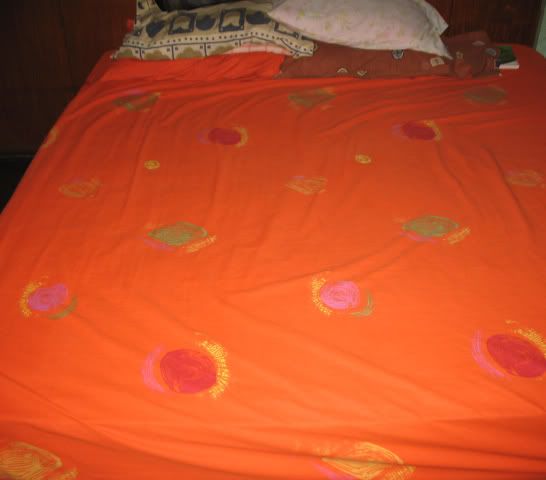 I probably think best when I'm in bed, in those moments of insomnia or just before I fall asleep. I read in bed (curling up with a good book and eating chocolate while it's raining...man, heaven.). All is peaceful and quiet--I can just lie there, indulge in joyful and/or sentimental thoughts and bask in memories--until my lovely invaders come to join me, either singly or
en masse.
Then all hell breaks loose. But it's fun.


**********


4OUR tag,
from HB. HB stands for Houseband, but it can also stand for
h
i
b
ang (insane). Hahaha!


A) Four jobs I have had in my life:
receptionist, abstractor/indexer, editor, writer


B) Four TV shows I love to watch:
I don't watch much TV but my current favorites are CSI (all three of them), Late Show with David Letterman, Amazing Race, The Jeff Corwin Experience


C) Four of my favourite foods (not by country, please):
chocolate!!!
inihaw na pusit
(grilled squid), pasta (all kinds),
sukiyaki
D) Four movies I would watch over and over (series are regarded as one):

Lord of the Rings, Four Weddings and a Funeral, Notting Hill, The Godfather


E) Four places I have lived:

Quezon City, Angeles City, Parañaque City


F) Four places I would rather be right now:

(You mean I can be in four places at once? How cool is that?) Rotterdam,
Coron Island,
Osaka, Barcelona


G) Four people I think will respond:

I'm not tagging anyone this time :-)


Before and After tag,
from Zeroimpact:

The catch is to list down anything with the before and after effect. Now, there are no rules set on what you are to write about, so let your mind work…




ZI, this is hard!!!


-You were only movement and a heartbeat before you came into this world
.
After cradling you for the first time in my arms, you became my life.


-Before I started blogging, almost none of you knew me
.
After starting this blog, everyone now knows I'm crazy


-Before drinking alcohol make sure you eat something
.
Or else you'll get drunk faster and then throw up after.


Anyone who wants to play, go ahead! :-)