After stuffing our faces at the fiesta in Guimaras, we headed to Boracay, another island in the southern Philippines. (Debo Blue, don't have a coronary; I promise this is the final post about last week's beach vacation.) Boracay is arguably the most famous tourist destination in my country, and since I hadn't been there before I was looking forward to seeing what the fuss was all about.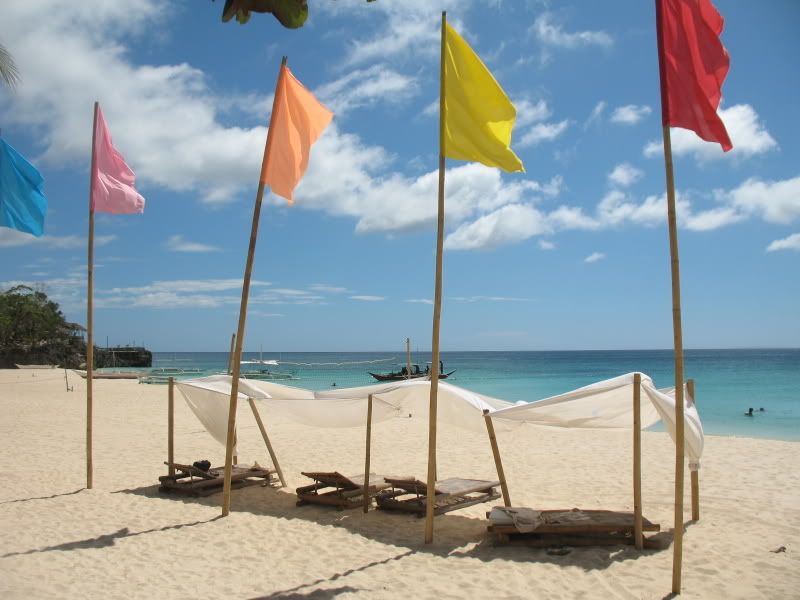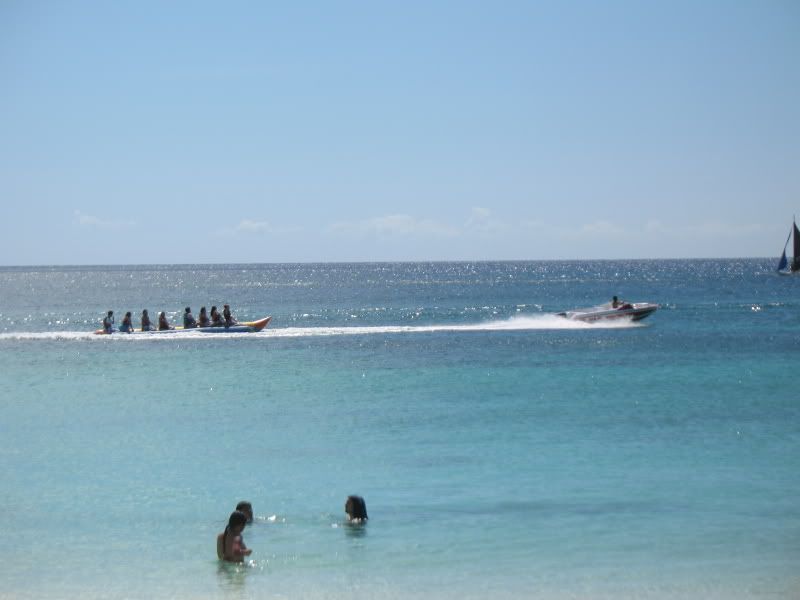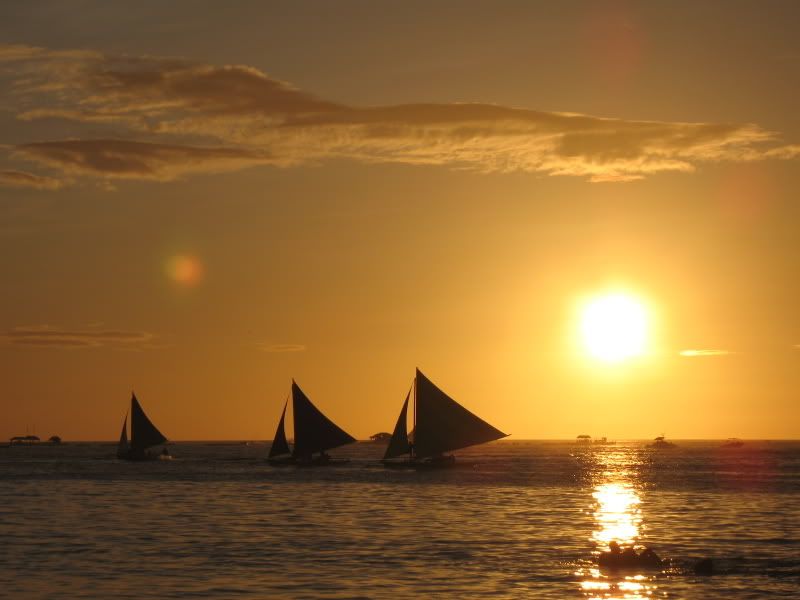 Paraws (sailboats) at sunset in Boracay

I must admit to an initial feeling of perplexity during my first few hours on the island. Sure, the beaches were gorgeous, there's no denying that: they have powdery white sand on the beach itself and far into the clear, clear ocean (no need to wear beach shoes to avoid injury from stepping on submerged stones and various sea critters), warm sun, benevolent breeze and water, friendly locals. But so do so many other beach locations in the Philippines. A good mental image of me during those first few hours would see me with my shoulders hunched, eyebrows raised, brow furrowed in consternation: Why? Why is Boracay so popular -- not only among Filipinos, but tourists as well?


But after conversations with several foreigners, I found myself re-adjusting my viewpoint. A friendly (and not-bad-at-all-looking) guy from Australia told me he fell in love with the island, so much so that he decided to extend his initial plan to visit from one month to four. And this from a person whose home country has lots of great beaches. He said that Boracay has something for most everyone: if you want quiet and seclusion, go to one part of the island; if you want to party, go to another part; if you do certain watersports, they can be done on another part of the island, too.


Talking with a bikini-clad Russian beach babe. Pic's just for you, Matt-man!

Another tourist found herself so enamored with the island that she's seriously considering staying there for good. Her plan to stay a couple of months stretched to seven. She's from Russia and she said she was enjoying the island's warmth and beauty, as well as the night life. Plus, she fell in love with a local.


Shooting the breeze with a German couple at Panoly Beach

This German couple couldn't sing enough praises about their stay in Boracay: in the man's words, it's an "amazing" place. We were staying in the same hotel, which they loved. Plus, the hotel had its own private beach. The only complaint they had was about the neon lights in the hotel's bar! To partygoers, that stretch of beach (breathtaking as it may be) might seem be boring. But I guess it really is different strokes for different folks. This German man and woman weren't in Boracay for partying purposes; hence, it was no surprise they relished their stay in that quiet part of the "amazing" island. They said they want to come back soon to visit other areas of the Philippines; they even had me write down the names of places they could go to (read: non-tourist-y destinations, or at least, those slightly off the tourist-beaten path). They went parasailing and snorkeling, and visited the adjoining islands. (I want to do that, too!)


View from our hotel room's balcony at Club Panoly

Talking with these people, hearing their points of view, reinforced a lesson I learned while growing up: that you should never be so firmly entrenched in your views and ways that you close your heart and mind to discovering new things. Strange as it may seem, there are people who are of a certain mindset that goes something like: "Whatever you say, I am right and you are wrong. And you are a jackass if you persist in believing otherwise." Being receptive to others' viewpoints is a good thing, I think. Even if you don't agree with their opinions, you'll at least learn something new or find yourself looking at something from a different perspective.

Me? I learned that Boracay is deserving of its local and international reputation. May the island and its people prosper.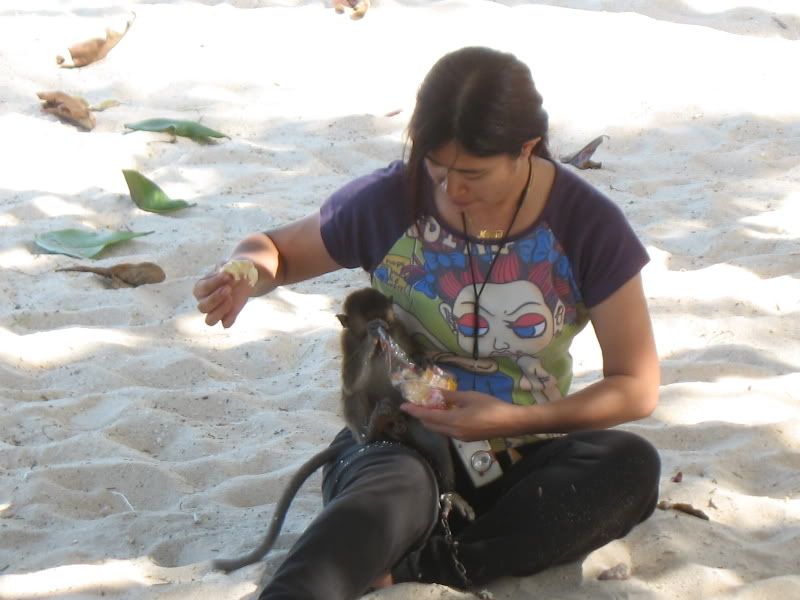 My friend Marnie feeding a monkey. Pic's for you, Odat!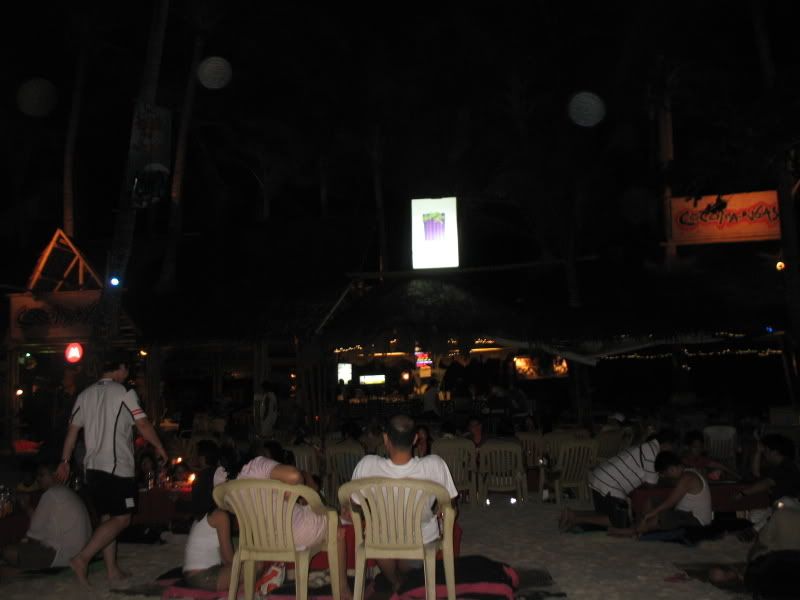 One of the many bars at night on White Beach
Vendors showcasing their wares at White Beach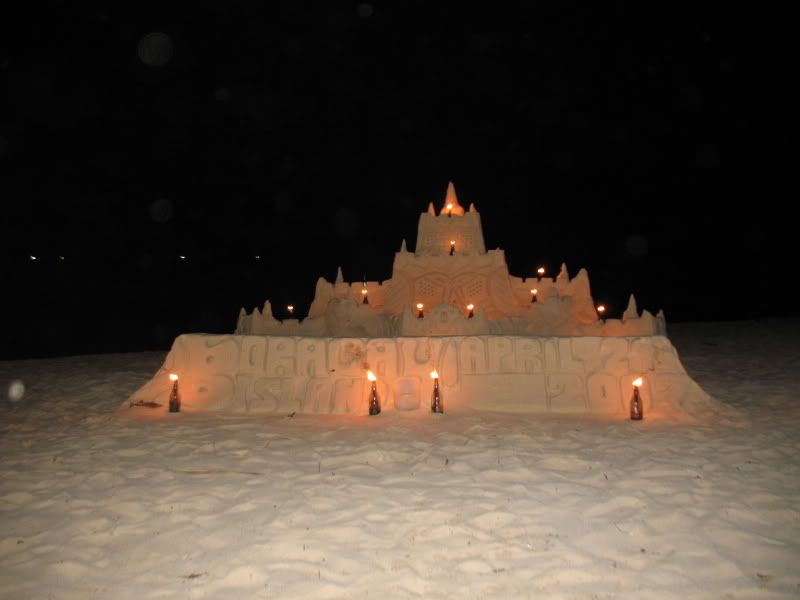 One of the numerous sandcastle creations on the many-miles-long White Beach

Still so much to see and do there, in that wondrous place called Boracay (and its island neighbors). I want to visit again.