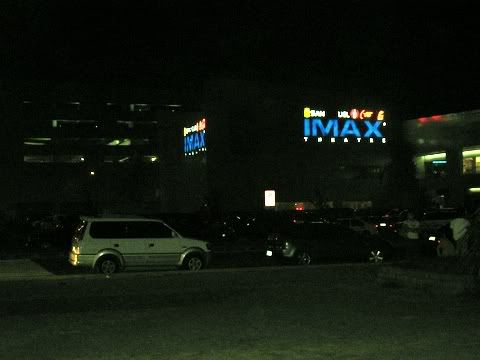 I took a much-deserved break from work tonight and went out with the clan to watch "Superman Returns" at the IMAX Theatre just next to the SM Mall of Asia (which is being promoted as the "biggest mall in Asia"). It's quite a large place, but I didn't really enjoy it the first few times I went because of the crowd.


Our tickets were for the day's last show, which was supposed to start at 23:55. We got there a bit early, so we whiled the time away by taking in the ocean breeze at the baywalk in front of the mall. I parked my back and fat ass on a low wall and watched the kids run and play around. One of them eventually joined me (she's my mini-me).

Tip: If you're going to watch the movie at the IMAX Theatre, make sure you buy tickets well in advance. If you go without pre-purchased tickets and find that all seats are taken, they won't let you buy tickets for that particular time slot.



It was my first time to watch a movie IMAX-style, and I must say I wasn't disappointed with the experience. The theatre was new, it was clean, and it was cold. The really cool part was that 20 minutes of

Superman Returns

were in 3D, specifically optimized for the IMAX experience. You won't see the 3D effects (and the 3D trailers) if you watch the movie in a regular theater. I'm a bit of a hick: I don't patronize malls all that often, so it's no surprise that I was all agog at both the 3D aspect and the IMAX presentation of the film.



I purposely avoided reading reviews and other feedback about the movie; I wanted my experience to be untainted by other people's views. I thought I'd succeeded, but alas! At the 11th hour -- in the ladies' room -- I couldn't help overhearing two women making comments on things like whether or not Superman is a metaphor for Christianity; if Christopher Reeve would have liked this movie; do-you-think-it's-true-that-Brandon-Routh-is-gay? Gah!

I will leave the philosophical/psychological/metaphysical/religious analysis of Superman's psyche/persona for another time, when I've had enough time to think about it. I won't even dwell on the special effects, which I thought kicked major butt by the way! What struck me about the film tonight was the love-story angle.

WARNING: If you haven't seen Superman Returns, stop reading this post now. There's a bit of a spoiler ahead. Besides, I'm going to be disgustingly girly and mushy.

Superman comes back to Earth after a five-year absence to find that Lois Lane is still single but that she has shacked up with another guy -- who's a good bloke, to his credit -- and that she has a young son. Superman rescues her from a nearly fatal accident (caused by his arch enemy Lex Luthor) and the look he gives her upon seeing her in person for the first time after five years could melt butter. She's understandably antagonistic towards him (wouldn't you be if your man just upped and left without saying a word?) but we all know, of course, that she never stopped loving him deep down in her heart.

There are many touchy-feely moments in the movie: Superman and Lois flying together; Superman saving Lois, her son and boyfriend from drowning; the bittersweet kiss she gives him while he lay in a coma; her efforts not to hurt Richard (the boyfriend) by not admitting her true feelings about Superman; Superman trying manfully not to show how hurt he is when he hears Lois deny her love for him (moral lesson: eavesdropping is hazardous to your emotional health).

But what made me reach for my pack of tissues was the utter pathos, the

tragedy

, of their love. He loves her, he wants her, but he can't have her because she's already in a relationship with someone else. She loves him, she wants him, she could give in to her feelings and

have him... but she chooses not to -- because she's in a relationship with someone else. And she has too much damn integrity to just leave the guy she's with for another person -- even if this other person is the man she truly loves. Awww shit, I'm gonna cry again. Excuse me.



Okay, I'm back.

Sure, the film has its share of inconsistencies and cheesy moments. But I don't want to go on a nitpicking spree here. I enjoyed the movie immensely. I look forward to watching the next Superman movie.